To Download our Irish Food Tours Brochure as a PDF file: Click HERE
Brought to you from the West of Ireland, near County Clare's wild Atlantic coast, St. Tola Irish goat cheese has achieved exceptional critical acclaim since its launch over twenty-five years ago.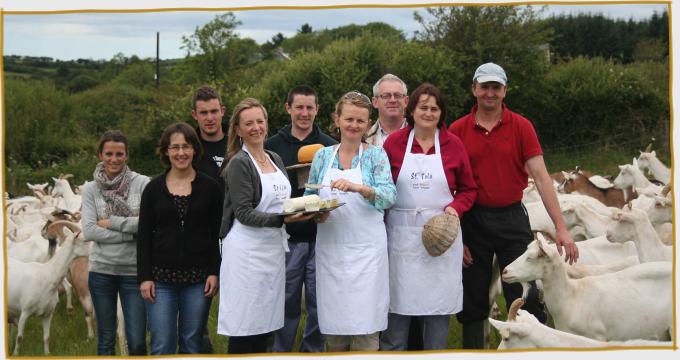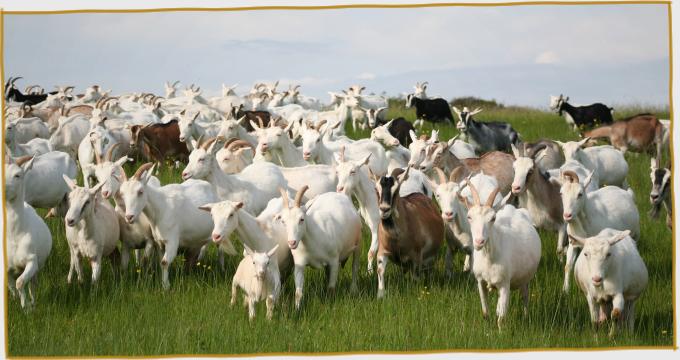 From young, fresh crottin through to mature, year old Gouda, all our cheeses are handmade and matured to suit their customers' individual requirements. As such, cheese from the St. Tola range is now among the most sought-after artisan produce in Ireland.
St. Tola Irish Goat Cheese is known as one of the premium artisan products in Ireland. It is the finest, gourmet goats cheese and has been hand-made in the townland of Inagh just south of the Burren in County Clare since the early 1980s.
The cheeses were originally made by Meg and Derrick Gordon who developed the fine quality of the cheese and helped establish a gourmet cottage industry in a rural area. In the late nineties, they were keen to retire and the business was taken over by their neighbour Siobhan Ni Ghairbhith in 1999.
Over time Siobhán and her dedicated team have made significant developments to the family farm. Siobhán has developed the business from a local industry to an internationally recognised brand. Our cheese is still hand made in small batches however as the artisanal quality of our cheese is paramount.
A family-run business since 1979, deliver direct to your table the best quality smoked salmon and seafood in Ireland.
U
sing only the freshest and finest natural ingredients and following traditional smoking methods handed down through generations.
Wild, Organic, or Farmed, their smoked salmon and smoked seafood offer a succulent, mouth-watering taste and delicate texture like no other
.
A mainstay of Newport's Main Street since the 1930's when it was opened by Seán's father, Dominick. It was, and still is, a small family business with a strong commitment to the local area. A lively local trade is evident from the bustling atmosphere in the shop and the good natured banter with regular customers.
As the sausages and puddings gain a 'following', other customers are migrating to Kelly's from far and wide. The butchers and the award winning products have been featured in many magazines and newspapers around the world and tourists with a gastronomic interest make a point of finding their way to Newport. Sean loves to meet them and enjoys nothing better than explaining the secrets of his success. Not too many secrets though, the precise recipes remain classified information!
The shop was founded by Seán Kelly's father, Dominick Kelly and his brother Michael, in the 1930's. Since 1982 it has been run by Seán, his brother Seamus and Sean's two sons, Kenneth and Cormac.
Kelly's operate their own licensed abattoir where they slaughter all their own locally sourced lamb and beef. Seán sources animals personally from farmers and buys directly. He has been dealing with some local farmers for 40 years.
At Goatsbridge Trout Farm you will be treated to a trout smoking demonstration followed by lunch. In 1180, the nearby Jerpoint Abbey was built by Cistercian monks who in addition to leading a life of prayer made their surroundings productive through hard labour.Fish was an important part of their diet and they fished the clear fast waters of the Little Arrigle River which ran close to the Abbey.
"In 1961 this river gave life to the creation of our first fish ponds; running through our lands it now forms the heart of one of Irelands best known trout farms. In 1990 the second generation of our family continued to develop the farm and in 2010 a state of the art processing and packaging facility was added to the farm to further ensure the quality of the trout produced on the farm. Now we are the market leader in fresh trout and we are constantly working to produce innovative and tasty new products using our fish."
Established in 1985, Harty Oysters, near Dungarvan, Co. Waterford, is one of the most successful oyster farms in Ireland.

Supplying high quality Gigas Oysters to the French market for the past twenty five years.

Offering both Diploid and Triploid oysters, in all sizes, according to our customers requirements.

They always use the highest standards of shape, size, grading and packing. They are now employing 25 people, all fully trained aqua-cultural workers, with many years' experience between them.
Blath na Mara Seaweed was set up by Máirtín O Conceanainn in 2002. It is based on Inis Mór which is the largest of the Aran Islands in Co Galway, Ireland. Máirtín was born on Inis Mór and has lived there most of his life with his family. Máirtín has an in depth knowledge and passion for harvesting and processing seaweed. He has spent much time perfecting the machinery which enables him to uniquely mill the seaweed to a fine powder, which gives Blath na Mara a high quality and unique seaweed product. Milled seaweed offers an easy way to start using seaweed in everyday cooking, by just adding a sprinkle in almost any meal. Blath na Mara has grown from strength to strength due to the increase in demand for quality hand harvested seaweed both here in Ireland and internationally.
The seaweed is harvested in a sustainable way in order to minimise any effect on the environment. This is achieved by harvesting the macro algae sparingly and in rotation from any one site. The marine macro algal flora of the Aran Islands, is rich and diverse. Clear clean Atlantic waters continuously bathe the shores of the islands providing an ideal environment for these macro algae, commonly called seaweed or in
Gaelic -
"feamainn". Seaweeds grow profusely on the long gently sloping limestone platforms of the north facing inlets of Inis Mór . They have been exploited by the islanders for a very long time and have been used in a variety of ways.
Cáis Gabhair Arann
Gabriel Faherty produces milk from his own herd of goats, making cheeses that are clearly identifiable as being produced on the Aran Islands.Gabriel is famous for his delicious gouda, feta, boilies and mature goats cheese and along with his day job and family juggling, his life has just got a whole lot more hectic with the arrival of his fourth child.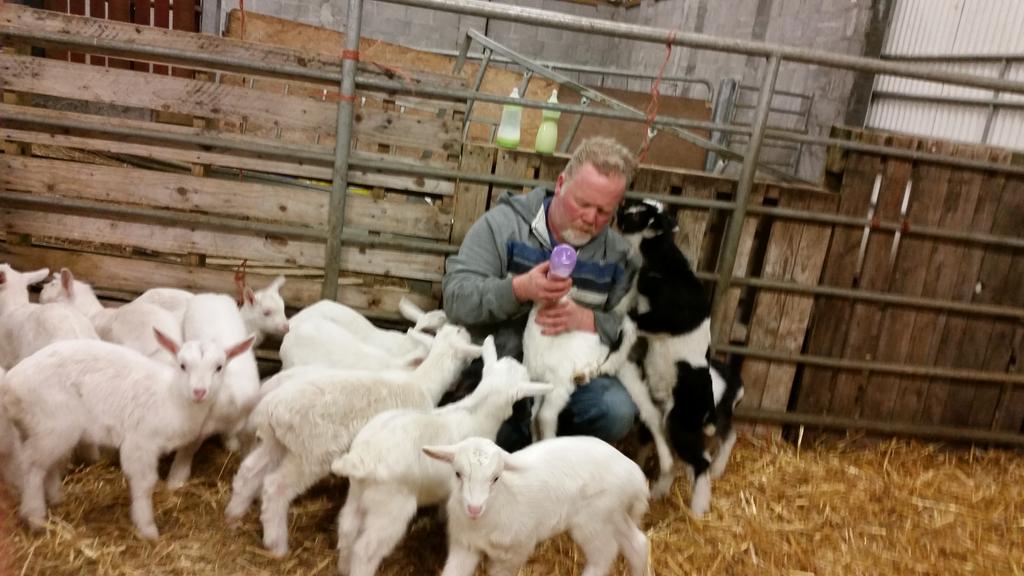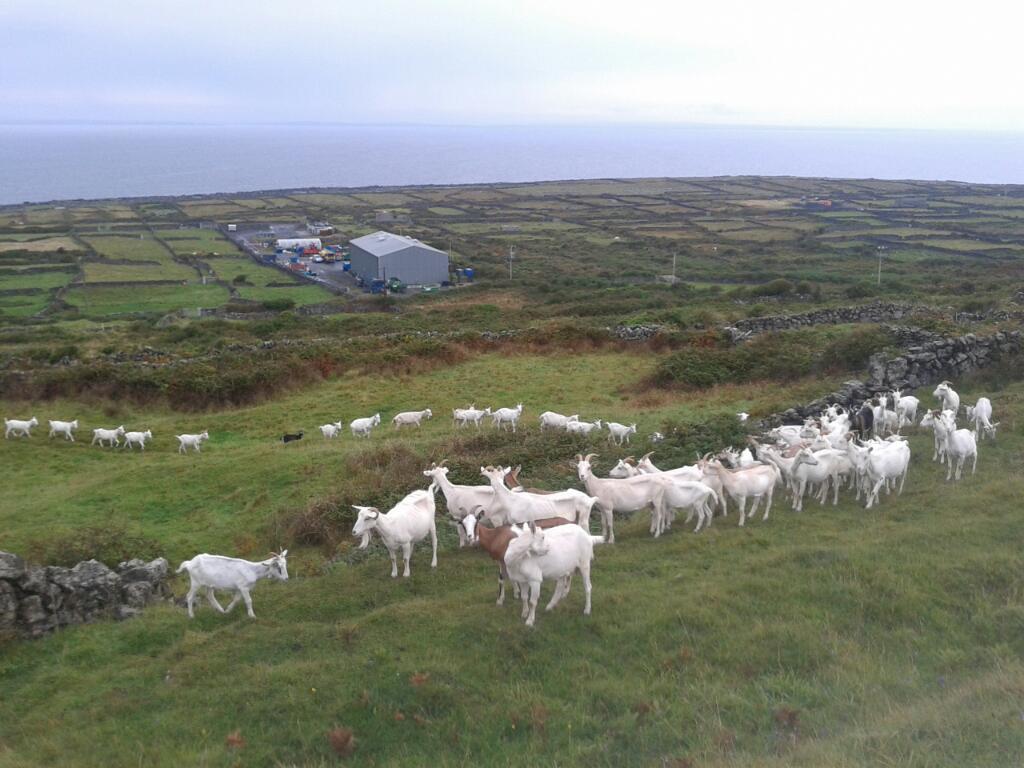 His beautiful nubian and saanen goats graze on the unique pastures of the Aran Island. The climate is perfect for the grass herbs as the island is served by the Gulf Stream. The unique diet of the goats gives the cheese its unique,
delicious flavour.
Audrea Hassett and Norbert Thul, artisan producers of gourmet Chutneys, Relishes and Pickles, "Tastefully Yours" was born out of yet another passionate conversation about food. The idea of designing good quality, delicious and somewhat different chutneys has been their goal for a long time. Product development is their strength and they are designing products to clients' requests and specifications.
Dungarvan Brewing Company
Dungarvan Brewing Company was launched in April 2010 after a couple of years spent researching, planning and developing by the four founders, brothers-in-law Cormac O'D
wyer and Tom Dalton along with their wives Jen and Claire with a view to offering the Irish beer drinker a greater choice in craft beers, with an emphasis on quality, craft and tradition.
The philosophy of the brewery is one of purity — they keep the beer in its purest form by bottle-conditioning it. It isn't filtered, isn't pasteurised and is naturally carbonated so there is minimum interference with it between raw ingredients and finished product. They always start with the best quality ingredients including; Maris Otter malt, full leaf hop cones and the limestone rich water of West Waterford.
Meet Alfie and Margaret whose animals have access to the outdoors at all times, they get plenty of exercise, they forage and root eating a natural diet.
To supplement their diet their pigs are also fed a selection of locally grown barley (with no gm additives), excess vegetables from a local market gardener and whey from
Mossfield Organic Cheese
.
"We are passionate about feeding all our stock – hens, ducks, pigs, cats and dogs – a gmo free diet. If you've visited us at all, you will know that we strictly adhere to this. We check the source of any feed."
So natural rooting about, organic whey, vegetables and barley…. how's that for a healthy diet? It naturally produces delicious free-range pork.